Since this is a blog about healing acne, then why on earth would I advocate covering up with makeup? Especially when many advise to skip the pore clogging concealers and foundations to prevent more acne forming on your fragile skin.
If you haven't read my post, "Does Makeup Damage your Skin (Leading to Breakouts)?", please go here.
I understand, whole heartedly, how difficult it is to face the outside world when a lady like you has a job, business to run, school, social events to tend. I get it! You need to look your absolute, gorgeous best and feel confident while out and about, because crawling under a rock or hiding in the mountains is not an option in our busy, daily life.
This is a journey after all, to self-healing from the inside and out. So, here's my take on covering up like a pro with green, all-natural (no yucky ingredients here!), botanical rich products when your skin is still in the process to recovery worthy of a gorgeous complexion ?.
I've experimented with many natural, non-toxic beauty brands over the years, especially concealers and foundations when I was going through my own healing and detoxing of acne.
I've chosen the best 2 products that will give you a full, flawless, matte coverage that won't smudge, move, or cake throughout the day – I totally understand how complex acneic skin can be in terms of covering up and the dry spots, flakiness, and oiliness some products can leave behind.
The Products!
Hynt Beauty – Duet Perfecting Concealer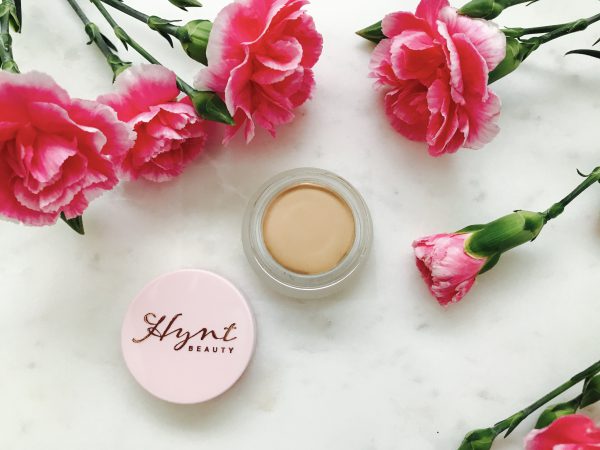 Hynt Beauty is what a professional line of cosmetics in the green, beauty realm is ALL about!
There are many green concealers out it the marketplace, but pretty much all the ones I've tried, either don't have enough coverage or don't stay put throughout the day.
Beauty editors that choose conventional beauty products are also loving this little gem from Hynt!
Award Winning DUET Perfecting concealer contains skin loving ingredients such as avocado oil, aloe vera leaf and cupuacu seed butter are jam packed to soothe and nourish your skin, as opposed to irritate it like conventional concealers.
The texture is a thick cream that spreads fairly easy and can be blended out with a damp beauty blender (my preferred method), brush, or fingertips.
The concealer comes in 6 shades; fair, light, medium, tan, dark, and deep. I'm in the shade light and do feel the colors run a bit light. For reference, I'm fairly light in BE original; fair in BE matte; N4 in MAC.
**Side bonus, this rock star is amazing at covering up under eye circles, which will make you look like you've been on vacay for 2 weeks!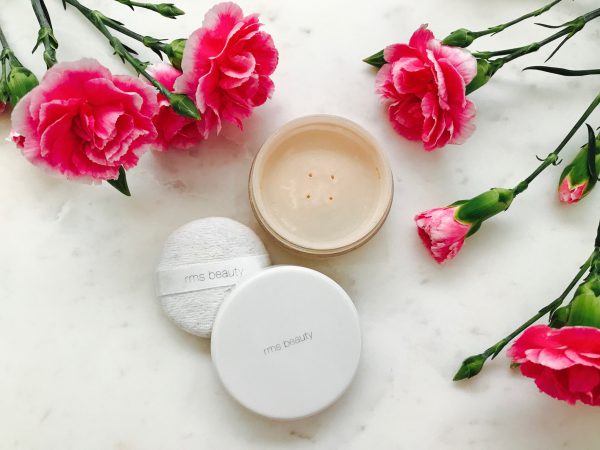 The founder of RMS (Rose Marie Swift) is the leading makeup artist to the Victoria Secret models (along with using her makeup line on them)- so, I dunno about you, but I want that model pearlescent glow and perfect looking skin!
Rose Marie suffered from ­health issues that were causing many problems physically, mentally and emotionally.
After an extensive series of tests, she learned that her blood contained toxic levels of heavy metals including aluminum, barium, cadmium, lead and mercury as well as high levels of pesticides and other chemicals – after testing these toxins, they were ALL linked to mainstream cosmetic ingredients that she was working with for years on her clients!
This journey made Rose Marie to make her very own, organic, non-toxic makeup line, RMS Beauty.
Hmmm…not only is mainstream makeup pore clogging and acne aggravating, but it poses REAL dangers to our health.
This is a very finely milled finishing powder that comes with a powder puff.
The tinted un-powder comes in 3 shades. I'm in the shade 0-1. There is also a translucent version, which I have not tried but heard amazing things about. The tinted version works extremely well with keeping cream foundations + concealers in check all day. The coverage is very sheer that provides a light even tint to the face. It minimizes the appearance of pores and softens the skin while absorbing oil with the primary silica ingredient.
I love using the un-powder with RMS "un" cover-up, which is a cream (medium coverage) concealer/foundation (FYI: Hynt Duet Perfecting concealer is more pigmented).
Lastly, I highly recommend using this product with the accompanying puff. Just swirl the puff in the lid with the powder and stipple the powder all over the face. This will ensure proper light coverage and will diffuse the look of pores by giving a silky look to the face.
How to Guide
Okay, let's get down to business!
My preferred method of using Hynt concealer to cover up blemishes or an area with more acne is to use a lightly damp beauty blender. I'm not a huge fan of brushes because they tend to streak the cream concealers around the area, especially if the blemish is dry.
The Duet concealer is very pigmented, so a little (pin prick amount) will go a long way. You can always add a tiny bit more. The key is to always layer the coverage – don't overdo/apply too much from the first use because we want to achieve a natural result- nothing that looks dry or caky.
Start with picking up a tiny, pin prick amount by the lightly damp beauty blender and place on the back of your hand.
Warm the product up with the beauty blender by blending it out just a bit.
Stipple very lightly on a clean, moisturized area where needed/ acne coverage.
Keep adding concealer to the problem area until desired coverage is achieved.
Pick up just a little bit of RMS Un-Powder from the jar with the accompanying puff and proceed to press and roll the puff over the area where you applied concealer in small sections. This technique is the perfect way to get a pore less and flawless finish to your last step for finishing touches to your face foundation, or in this case, the Duet concealer.
If you use a standard fluffy brush to distribute the Un-Powder (which is fine and still works), you may not get the pore less, refining look that this powder may give if you suffer from large pores. The fluffy brush does not stipple the product well unto the skin as well as the puff in a stippling motion.
**Side bonus, this concealer is very highly pigmented and can be used as a full face, full coverage foundation. Just mix a pea size of the concealer with your fave moisturizer and blend together on the back of your hand. Proceed with a damp beauty blender or stippling brush for a matte, polished finish.
And voila, beautiful! You should feel gorgeous and confident with this makeup application as it will provide the polished, full coverage look WITHOUT the harsh side effects of pore congesting and acne inflaming toxins from mainstream brand coverups!
Have you tried the Duet concealer or the RMS UN-powder? Share below!