So, what's the quickest and easiest way to calm redness + flatten pimples + hydrate dry patches + tighten those pores? Maybe you have a birthday bash, an important party event, or yet a wedding coming up…C'mon we're all busy gals here and absolutely want to look our best, minus the acne. Going for consistent facial treatments is not always in our budget. However, if it is, you can read up on my experience and review here on going for a facial and the difference in treatments.
But, my fave way to see quick results to get that glowy, near picture perfect complexion…
Hello masking!
Masking (make sure the masks are appropriate to your specific skin type) a few times a week alleviates external inflammation + calms and soothes irritated complexion. I reviewed Cocovit's charcoal facial mask here; however, if you're more on the drier side of the spectrum, this mask may not be your go to. Although, it works wonders if you're especially oily to combo.
Acne prone skin always requires extra care and nourishment – unfortunately, there's no way around it. Ya know what I'm talking about – some day's skin resembles coconut oil on a skillet, other days it resembles dry patch works.
Finding masks that you can rotate throughout the week can be a challenge because most mainstream facial masks that target acneic skin sold on the market nowadays contain chemicals, preservatives and toxins that dry and irritate skin further. Read my post here on why it's important to switch to all-natural, green beauty + skincare.
I've come up with my TOP 3 facial masks that help to calm the pesky blemishes overnight. Yes, you heard that right – Overnight! These three gems are also a perfect fit for ALL skin types because ya know, just because you're acne prone does not translate to oily skin syndrome only! You could just as well, be dry or combo.
What I love most about these masks is that they act like a chameleon depending on your skin type and balance the acne in a non-aggressive way.
Honey I Shrunk the Pores! Biologically Active Skin Polish/Mask w/ Fruit Enzymes – Simply Divine Botanicals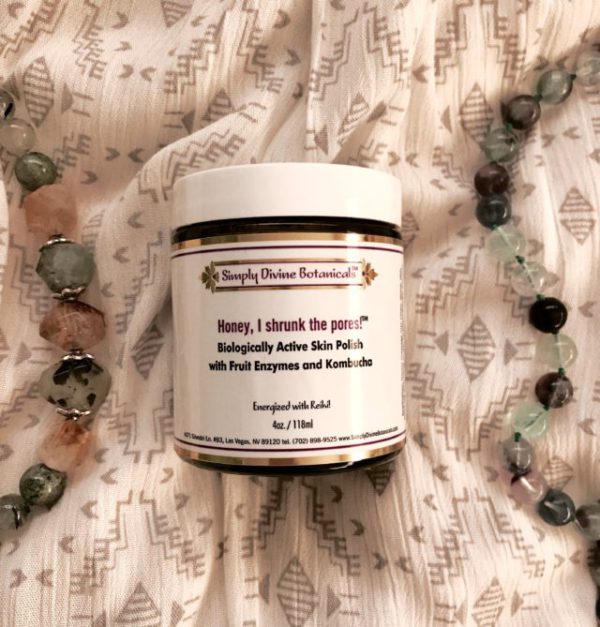 The name of this mask is a mouthful! I've reviewed and gave a description on Simply Dive Botanicals brand here.
Great quality honey acts as an amazing exfoliant and reduces inflammation from acne, eczema, rosacea, and other skin issues. It's also natural in anti-bacterial + anti-microbial properties, which are some of the essential characteristics for acne sufferers since acneic bacteria collects on skins surface. Honey also tightens skin, minimizes pores & wrinkles, and disinfects.
About the mask–
Simply Divine Botanicals version of Honey Active Skin Polish + Mask does all mentioned and more! It is packed with fruit enzymes and smells like tasty raspberry jam…yum! Perfect for all skin types, especially acne prone! The consistency is thin – not thick like actual honey, which is good for spreading the product onto the face.
After cleansing skin, apply honey skin polish and leave on for approximately 20 minutes or more. Rinse off with warm water. Follow with your fave serum/facial oil/moisturizer. I do this polish/ mask 2X a week.
Although, Simply Divine Botanicals states you can use it daily – which I do recommend if your acne is chronic and/or you have a special event coming up.
Skin feels like the softest velvet afterwards and pores appear much tighter. The following day, makeup applies flawlessly and skin still has the same effect as the previous day when the mask was done.
The beautiful after effect of this baby – complexion is hydrated and smoother from all the dry pimples that you may be dealing with.
The ingredients are very clean + beneficial for acneic skin. Some of the ingredients are: raw wild crafted honey (antimicrobial + anti-inflammatory), organic green papaya (natural exfoliant), witch hazel & organic raw apple cider vinegar (anti-inflammatory), chamomile & comfrey (calming and soothing), frankincense oil (anti-aging).
Green Papaya + Lime Mask – Living Libations
This particular mask has a very thin, almost watery like consistency. But don't let this fool you, cause it throws a serious punch thanks to natural derived AHA's, which exfoliate the uppermost layers of the skin.
The mask stings (due to alpha hydroxy acids, AHA's) just a little after initial application and may not be ideal for the most sensitive of skin types.
About the mask–
It gently tones and exfoliates skin while maximizing moisture and expanding elasticity. This mask is made with fruit-derived enzymes along with raw sugar cane as supple exfoliating agents (great for dry pimple areas + dry patches).
Aloe vera gel (soothes irritated skin from post acne flare ups) and golden jojoba encourage moisture, elasticity, and suppleness. Enzymes from lemons and limes blended with raw sugar, green papaya and pineapple enzymes clears pores from bacteria and improves the overall texture and suppleness of the skin (I find that those specific enzyme ingredients are the little stars of this mask that clear debris and promote clear pores). Rosewater, comfrey, and horsetail strengthen skin barrier from post acne picking and renovate its resilience.
Living Libations states you can leave the mask on overnight, but I found that leaving it on for an hour + leaves the skin a bit red. So, I would suggest starting off with 20 minutes and seeing how your skin reacts – if skin doesn't react, then increase the length of dosage next time.
I find that my skin feels firmer and pores are clearer after each use. This is my go to when I feel I need a brightness to my complexion the next day!
Kokoleka Ritual Dessert Purifying Mask – Leahlani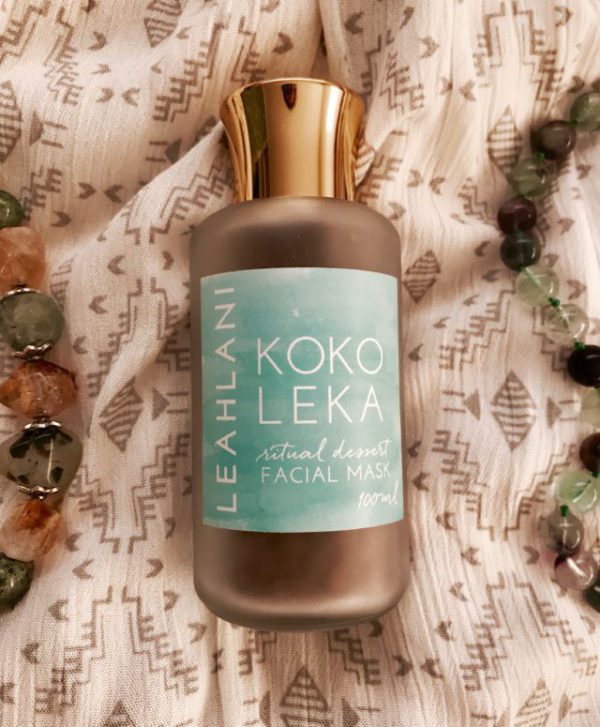 Decadent chocolate + vanilla dessert wrapped in a facial mask!
This stuff is detoxifying + purifying + tone up effect!
From Leahlani's website:
Kokoleka is our luxuriously detoxifying super-food 'dessert mask'. Her advanced formula of mineral rich clays, invigorating coffee, activated coconut charcoal, skin softening coconut milk, organic cacao and antioxidant rich fruits will help to purify and detoxify the skin, drawing out impurities from deep within the pores.
Once activated, Kokoleka will exude the most exquisite chocolate and citrus notes that will envelop your skin and senses in bliss, leaving your complexion vibrant and renewed. You will feel her tingle with delight as she works her magic, increasing enzyme activity, boosting hydration and balancing mineral levels on the skin.
I love using this when my skin is acting up! I get almost the same effect with this as with Simply Divine's Honey Skin Polish, but more detoxifying due to bentonite + kaolin clay that pulls impurities from pores.
Kokoleka smells like fancy dessert and envelops your precious face with beautiful aroma that will leave your complexion clear and toned! It also acts like a light scrub when removing it with water. Just lightly massage a little bit of water unto your face in circular motions for about a minute, then rinse off. Follow with your fave serum/facial oil/moisturizer.
By the way, the mask is in powder form, so it must be mixed with some water to be activated and applied.
In conclusion, I adore all 3 of the masks mentioned and not sure if I could pick a favorite! They're all unique and work their special magic in their own precious healing ways.
Have you tried any of these masks? Share in the comments below!