Is a makeup primer worth the extra step + extra cash to your makeup routine? In a short n' sweet answer – it depends! If you have acne-prone, oily, combo, or dry skin, then yes, a makeup primer can make a difference in longevity and look to your foundation.
It's not a necessity for some, but I'm going to make a recommendation on my personal favorite (all natural & non-toxic) in this post + clarify why you may need that extra step + why mainstream makeup brand primers are a NO, NO for acne prone skin.
Background on Conventional, Mainstream Primers
A makeup primer is made to extend the wear of your makeup, including foundation, concealer, blush and powder. It prevents from makeup meltdown situation that sometimes occurs to us ladies at the end of our day.
Foundation that looks cakey, blotchy, oily is never cute…
Primers fill large pores to minimize them and let your foundation lay more smoothly on the surface.
They can also diminish the look of lines and wrinkles.
In addition, a good primer will smooth out any dry spots/patches on your face, so your makeup applies better and seamless.
Issue w/ Majority of Makeup Primers
Most mainstream makeup primers contain pore clogging and pore congesting ingredients, which damage your skin and aggravate it into a rash, acne, and redness.
If you haven't read my post on "Is makeup sabotaging your skin," you can here. It goes more in depth on toxic ingredients found in most cosmetics and where you can find alternatives.
The star ingredient that makes primers perform in terms of keeping makeup looking 'fresh' all day is none other than silicone. There are other toxic ingredients found in mainstream primers, but silicone is what stands out the most, due to the nature of how it applies on the skin.
Silicones are basically slippery polymers that have dozens of different names, with new compounds being developed all the time. And this slippery, almost velvet like gel texture is precisely what sort of blocks your foundation from the skin – congesting pore at a time.
Smashbox was one of the first major brands to come out with their cult following + award winning, Photo Finish Foundation Primer – and let me tell ya, I've tried it back in the day and it DID make my makeup last longer and made skin look pretty, pretty darn good!
Until the breakouts set in, that is – that very same night!
Ingredients: CYCLOPENTASILOXANE , DIMETHICONE , DIMETHICONE CROSSPOLYMER , TRISILOXANE , SILICA , DIMETHICONE/VINYL DIMETHICONE CROSSPOLYMER , ETHYLHEXYL SALICYLATE , RETINYL PALMITATE , TOCOPHERYL ACETATE , CARTHAMUS TINCTORIUS (SAFFLOWER) SEED EXTRACT , PROPYLENE GLYCOL , WATER\AQUA\EAU , VITIS VINIFERA (GRAPE) SEED EXTRACT , COLA ACUMINATA (KOLA) SEED EXTRACT , CAMELLIA OLEIFERA LEAF EXTRACT
The very first five ingredients are silicone derived and what probably clogs the skin for most of us.
**Keep in mind that silicone ingredient (chemically derived) is different than silica (naturally derived)!
Why is Silicone So Bad + Pore Congesting?
Silicones can be compared to something like a plastic wrap – silicones form a barrier on top of your skin. That barrier can lock in moisture, but it can also trap dirt, bacteria, sebum, dead skin cells and other debris along with it.
When all those unnecessary components are trapped, pores can't breathe, thus creates acne or other skin reactions, such as redness, dryness, etc.
Further, silicones interfere with natural skin's cell renewal. Our skin renews itself every 28 days, which sloughs off old cells, so the new ones can regenerate to surface.
Silicones inhibit this process by slowing down the production of the new cells and keeping dead one's cling longer. Imperfect cell renewal could impair the improvement of new cells, thus create hyperpigmentation and redness on the skin.
Keep in mind that silicone ingredient has many variations – words mostly ending in cone & siloxane & conol. Ex. Dimethicone, Methicone, Trimethicon, Cyclopentasiloxane, Dimethiconol.
This is especially worry some if you suffer from acne prone skin!
Please keep in mind, that "silicone" isn't the only harmful ingredient to the skin. Conventional brand makeup primers contain acne forming ingredients that have no business on your face.
Is there an alternative?
Most certainly!
100% Pure Mattifying Primer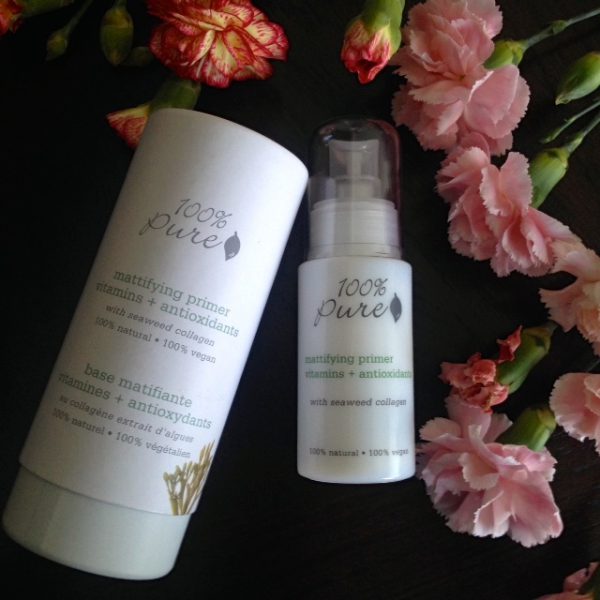 100 % Pure Cosmetics is an awesome brand with some pretty awesome ingredients. I love their makeup line + body care and use them daily. Not once have I had any redness, blemishes, or odd reactions to their herbal and conscious ingredient products.
Just like their name – they are in fact, 100 % PURE! Pure ingredients equate to pure, healthy skin!
I've been using their mattifying face primer for a few years now and absolutely love it!
From 100% Pure website:
Silicone-free primer infused with skin-plumping seaweed collagen makes cosmetic application flawless and last longer. It fills in lines for smoothness while keeping excess shine away.
For Whom:
All skin types that desire a long-lasting makeup application that minimizes shine.
The primer comes packaged in a sturdy, glass bottle with a pump. 1 oz. Retails for $47.
Texture
This is where it gets good…remember a few paragraphs up I told you how Smashbox photo finish primer has a consistency of velvet gel texture that glides seamlessly on skin, minimizing large pores and smoothing out any flakiness/dryness?
Well, 100% Pure mattifying primer is spot on when it comes to comparison in texture + performance – minus all the yucky, silicone based ingredients.
Texture of this primer is same in comparison to Smashbox and has that velvet gel like feel/slip to it.
Application 
From 100% Pure website:
Apply evenly to clean or moisturized skin. Allow to set for 90 seconds. Follow with your makeup application.
Personally, I apply a moisturizer, wait for about a minute, then follow with primer. Only a pea size amount is needed to cover the whole face.
I wait for a good minute before applying any makeup.
Performance
This baby performs! Keeps me shine free for approx. 5+ hours of wear. However, my skin type is slightly oily – not a grease skillet type as I used to be in my earlier, acne-prone days.
Since, I've been following the holistic practices per my skin routine ritual + healthy nutrition, my skin has become balanced and gets slightly oily throughout the day, which I don't mind. I don't even need blotting tissues compared to a few years ago, when I needed to blot every half hour! Seriously…
Although, this is a mattifying primer, I've read many reviews on this product where ladies state that even having combo or dry skin, helps them with makeup application and longevity without any dryness or flaking from the product. Its literally for all skin types.
However, 100% Pure does carry a different primer that's more targeted for normal to dry skin types. The luminous primer is a lot lighter in texture and applies similar to a watery type moisturizer. I have not tried it myself, but it seems to be a popular pick, as well.
Ingredients (mattifying primer)
Aloe Barbadensis (Organic Aloe Juice) Leaf Extract*, Vegetable Glycerin, Olive Oil Squalane, Tocopherol (Vitamin E), Euphorbia Cerifera Cera (Candelilla Wax) Camellia Sinensis (Green Tea) Leaf Extract, Silica, Oryza Sativa (Rice) Starch, Fucus Vesiculosus (Seaweed) Collagen, Eucalyptus Globulus (Eucalyptus) Extract, Melaleuca Alternifolia (Tea Tree) Extract, Oregano Extract, Thyme Extract, Lonicera Caprifolium Flower and Lonicera Japonica (Honeysuckle) Flower Extract
Don't you just love seeing words that you can pronounce in comparison to the Smashbox primers' ingredients? =) Make me double smile to know I'm putting a dose of healthiness into my skin and not congesting with unknown and questionable compounds.
Have you tried 100% Pure's Mattifying or Luminous Primer? I'd love to know! Share in the comments below.