Mineral makeup is everywhere! Every major makeup brand has jumped on the mineral craze and came out with at least 1 mineral foundation + other mineral based cosmetics such as lipsticks, glosses, blushes, etc. It's been touted that minerals are a healthier option for our skin (which is our largest organ) and perfect to use for those with problematic skin issues such as acne, rosacea, eczema –
in addition, aestheticians and dermatologists advise on using mineral foundation after a series of skin resurfacing treatments such as a chemical peel, microdermabrasion, etc.
But is the hype real?
I'm sure many of you tried the popular Bare Minerals and have mixed thoughts on that one – love it or hate, but the hype is very REAL –  I assure you.
Well, I'm going to debunk the mineral makeup fad (specifically, foundation since it impacts the health of skin) + ingredients (which brands are the worst offenders that could cause a host of skin issues) and recommend my 2 favorite mineral foundations that I've been enjoying for a couple of years now and seen absolutely no irritation from!
Natural Ingredients?
Mineral makeup has been around since the 1970s and been praising – "so natural that you can sleep in it." So, is the cosmetic industry telling me there's absolutely no chemicals, fillers, nor toxins lurking around in my fave mineral foundation/setting powder/concealer/blush? Because the word "natural" should foretell – absolutely, pure, right?
Wrong!
Let's take a closer look at the ingredient list…
Bismuth Oxychloride (Irritant)
The #1 ingredient that's been around in majority of mineral cosmetics (including Bare Minerals) that gives off a pearly sheen – but most brands are slowly ceasing bismuth oxychloride due to customers complaints of skin irritation, acne, redness and itchiness.
So, what exactly is it & what purpose it serves?
Bismuth oxychloride, which seldom occurs in nature, is manufactured by combining bismuth, a by-product of lead and copper metal refining, with chloride (a chlorine compound) and water. It's used in cosmetics because it has a distinct shimmery, pearlescent appearance and a fine white powder texture that bonds well to skin.
Why so many complain of Bismuth itching their skin?
Bismuth oxychloride contains a unique crystalline structure. As one swirls the minerals in the lid, then applying to the skin in "buffing" or "stippling" motion – crystals "poke" at skin and get stuck in the pores, where the sharper "spokes" can cause irritation and itchiness.
Some peeps complain that bismuth is what causes cystic acne on their skin. Once they switch foundations – big, painful acne spots subside. Makes sense since bismuth is a chemical compound – that's not of "natural" origin.
Brands that contains Bismuth oxychloride: Bare Minerals Original foundation, Laura Mercier Mineral Powder, Tarte Amazonian Clay Full Coverage Airbrush Foundation, Pur Minerals. Not too mention, MAC has a few mineral based foundations but refuse to list the ingredient list on their website…
Kaolin Clay + Silica (The Drying Offenders)
These two ingredients are added to provide a matte, oily-free complexion – especially the kaolin. However, even though I'm oily, I've always found kaolin clay to dry my skin even further – so I'd stay away from this ingredient, no matter which skin type you possess.
On the other hand, silica is used for as an anti-caking agent in mineral makeup. Some brands (even non-toxic ones) will state that silica is a naturally derived ingredient (which it is) and doesn't harm the skin.
It is known for its absorbent quality to the skin – sucks moisture, oils out. So, I'd really be careful on this one, especially if you're more on the dry side.
**Please note, the 3 above ingredients in mineral foundations are the ones that I've found to be the worst in terms of impacting the skin. Parabens, silicones and other preservatives are not as present in majority of mineral makeup; therefore, I did not fully disclose on them.
More Ingredients in Depth…
Mineral makeup is compiled with:
titanium dioxide
zinc oxide
mica
iron oxides
That's it!
Other fluff of ingredients that makeup brands include in their minerals is usually unnecessary – only a few minerals are needed to make a mineral rich foundation/finishing powders/blushes.
Read my post here to learn on the dangers of conventional + mainstream brand ingredients.
My Experience
When I was working on my journey to clear skin, I tried EVERY foundation under the sun in Sephora, just so I could feel normal in public.
Foundation was my official BFF. I held unto the belief that mineral makeup was better for my skin because of all the ads promoting, as if this is the purest, nature's giving cover-up + it felt lighter and I was able to get ample coverage on my flared-up acne versus applying the thick liquids and creams.
I tried the 4 brands mentioned above plus others that contained bismuth oxychloride and have always had reactions. My skin seemed to only itch in warmer months though. Sometimes I'd break out in cysts, but they were never consistent, so I thought it wasn't my minerals.
I kept using the foundations because I was afraid if I switched to those that contain an EXTENSIVE list of chemical derived ingredients my skin would get worse. Plus, I couldn't for the life of me go outside without a trace of foundation + concealer.
Fast forward to the day that I finally learned how detrimental conventional makeup (including mineral makeup due to all the fillers and unneeded ingredients) is to our precious faces.
I went on the quest to find healthy, natural, PURE foundation + concealer that wouldn't aggravate my skin further. You can read here on my absolute favorite, full coverage concealer (non-toxic). And here on the dangers of mainstream makeup and cosmetics.
My 2 favorite mineral foundation picks are Jane Iredale and Lily Lolo. LOVE! SERIOUSLY! Been using these 2 brands for a couple of years now and can't rave enough…they're gentle, provide light to full coverage, light on the skin, and blend beautifully – no line of demarcation here!
Jane Iredale (PurePressed Base)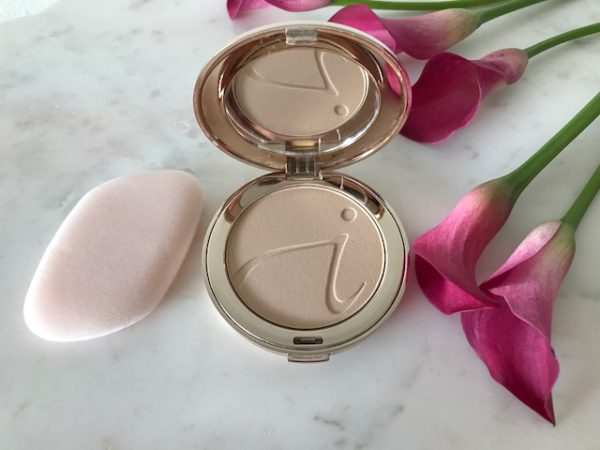 Jane Iredale has been in the business for over 20 years and the company prides itself for being "the skincare makeup," meaning their company uses the best ingredients possible for all their makeup products, which won't irritate or clog the skin. It's mostly sold online + high end spas and only certain beauty retailers such as Plane Beauty carry the full line.
Coverage and Foundation Shades
The PurePressed Base Mineral foundation is a medium to full coverage pressed makeup. Its oil-free, fragrance-free, bismuth oxychloride-free and mineral oil-free. It has a titanium dioxide sunscreen of SPF 20 UVB/UVA. Contains antioxidants such as Pine Bark Extract and Pomegranate Extract (a potent antioxidant that aids in minimizing UV damage).
The coverage level can be built up depending on the application used. For instance, using a standard flat top kabuki brush will impart a medium coverage. Using Jane Iredale's flocked sponge (pictured – synthetic, non-latex sponge) will impart a full coverage. The finish of the foundation is semi-matte that looks flawless if applied well.
JI has a good shade selection which is based on neutral, cool and warm undertones. Therefore, matching to a perfect shade should not be difficult. I have fairly light skin with neutral undertones and my shade is radiant. For reference, I'm fairly light in Bare Minerals original; fair in BM matte; N4 in MAC.
Although, I have oily skin, I would still recommend this foundation for all skin types as this never looks dry, nor accentuates dry patches. Further, it never settles into pores…ehem, bare minerals I'm looking at you.
Most mineral foundation (loose or pressed) that I've tried over the years usually leave my face looking patchy after a few hours of wear due to oils in my skin breaking down the minerals. Not this one!
How will it cover acne?
For a full coverage effect, I'd suggest using JI flocked sponge (pictured). Just swirl the sponge in the pressed base and stipple on the skin of concern. Some concealer may be advised underneath, depending on how heave the pigmentation/acne scarring is.
The pressed foundation comes in a sleek, sturdy, beautiful gold metal compact that's refillable. The actual foundation is a refill, which is sold separately from the compact. I have personally tried numerous mineral foundations over the years and can vouch that this one is a home run due to the ease of application (no need to swirl, tap, and buff) and the fantastic coverage level.
Jane Iredale also makes this foundation in a loose mineral base as well; however, I prefer the mess free version of a compact and the ease on portability. Compact is sold for $18-$20. Refills of the foundation are sold for $42.
**Also, please note, the foundation does contain dimethicone as one of the ingredients and can be comedogenic for some individuals because it is silicone based. Demithicone gives a slip to the foundation, which results in a nice blendability of makeup. My skin reacts to most silicone laden products and I have not had any issues with JI.
Lily Lolo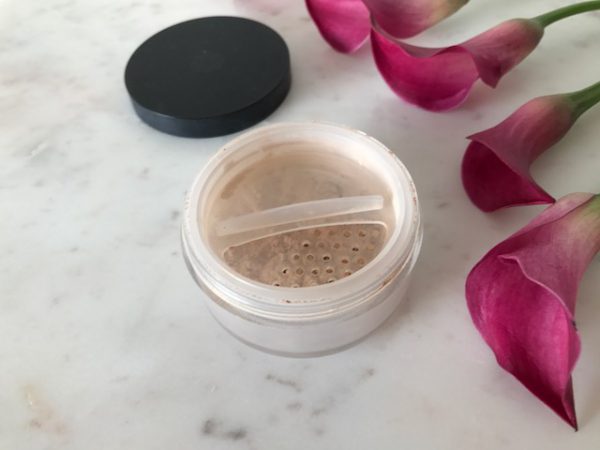 Lilly Lolo Mineral Cosmetics is a luxurious natural makeup thoughtfully formulated and made in England that is now available in the US & Canada. Lily Lolo is the original Natural Makeup from Europe – product is free from harsh chemicals, dyes and fillers and even has antibacterial properties to help improve the skin.
Coverage and Foundation Shades
The foundation comes in a loose, finely milled mineral base (in a jar w/ a sifter top) and is buildable from light to semi full coverage. It has SPF 15.
The ingredient list is small, compared to JI:  Mica, Zinc Oxide, May Contain Titanium Dioxide, Iron Oxides.
The less amount of ingredients, the less chance for breakouts and irritation!
The coverage level can be built up using the accompanying kabuki brush, which I absolutely adore and use for all of my mineral powder foundations. The swirl, tap and buff method is probably ideal – not really a need to tap off the excess. Swirl in the lid and buff – then stipple well into the skin. The finish of the foundation is semi-matte.
Start off with a pea size amount in the lid, swirl the powder well and buff – repeat 1 or 2 more times for desired coverage.
How will it cover acne?
A concealer is a must since the coverage doesn't go to completely full. You can use the foundation as a concealer with a small, dense brush and cover the areas. Check out my review here on my fave, all-natural, green concealer.
Lily Lolo has a really good shade selection which is based on neutral, cool and warm undertones. Same goes for JI, as mentioned in above paragraphs. They really go beyond on their lighter shades – if you're very pale, they'll have a shade for you! My shade is barely buff.
This foundation is suited for all skin types – however, I think it would be best for oily to combo because even though it has a creamy consistency, it does come out a bit dry on the skin.
The price is reasonable on this one compared to JI – $22 for a full jar (9 g.) However, JI in comparison offers fuller coverage and there's no need to swirl, tap, buff. In really comes down to preference and price when choosing between the two.
Personally, I like Lily Lolo foundation as a finishing powder to any liquid and BB creams due to the lightness of powder.
Most, of the time I use JI because it's a breeze to apply and I get to control the level of coverage in a snap!
Where to purchase? Credobeauty.com
Extras
If you suffer from oily complexion, I'd recommend a translucent setting powder to go with mineral foundation. My personal favorites that work on keeping you shiny-free majority of the day (or at least 5+ hours, depending how oily you are) are 100% Pure Bamboo Blurring Powder and Lily Lolo finishing powder.
Also, a setting mist would be helpful to combat the powdery look that mineral makeup can sometimes give off. Jane Iredale makes amazing Hydration Sprays suited for all skin types! My fave is the Balance (oily + acne prone) and D20 (normal, combo + dry).
Conclusion
So, now you have the lowdown on mineral foundations, ingredients, brands, and what to look for when purchasing!
I hope you found this post helpful, as I know how confusing it is to look for a foundation that won't break the skin out, yet still natural (non-toxic), and performs on wear ability + coverage.
Have you tied Jane Iredale or Lily Lolo? What's your fave mineral makeup brand?
Sources + References (click link below)
SaveSave
SaveSave
SaveSaveSaveSave
SaveSave
SaveSave
SaveSave
SaveSave