Finding a face mask that shows its performance through tightening pores, reducing breakouts and giving off a youthful + rejuvenation complexion is A LOT to ask! Most masks out in the market today seem to underperform when it comes to all the previous mentioned attributes. To ADD more to the mix – a natural, high performance botanical + all natural, minus all the chemical derived toxins is what my skin always wants + needs and yours should too!
My previous post here discusses the conventional skincare/cosmetics and the chemicals that are masked – all more reasons to make the switch to non-toxic cosmetics.
When I got into holistic skincare (4 years ago), I've searched for something that would change my skin overnight. I know, a little too much to ask for.
However, a good mask will alleviate your skin issues for a day or two (results should be seen, even if their slight), then work toward clearing skin with weekly use going forward – I've found a few that do that. By skin issues, meaning alleviate breakouts, brighten + tighten skin, and give off a youthful glow.
Since, I battled acne for 18 years – I wanted something that could start showing results and draw impurities out, so I could have a better-looking skin the next day.
Masking, if done religiously will improve your skin – if you keep up with the weekly ritual. Otherwise, your skin will go back to the way it was before.
Once I found the mask I'll be reviewing here, my skin completely changed – I'm talking a 360 turn when I applied holistic skincare ritual magic + holistic nutrition and a balanced lifestyle.
I am going to share with you one of the products that helped my journey.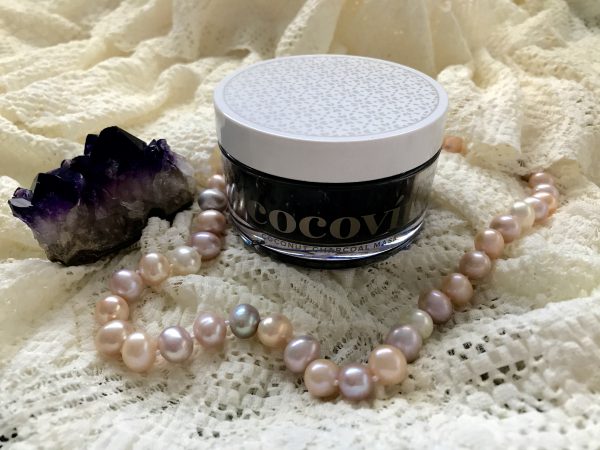 I adore this mask! And for many reasons!
Clears skin – check!
Brightens skin – check!
Tightens pores – check!
Reduces and calms blemishes – check!
According to Cocovit's website on this magical mask:
Detoxifying and rejuvenating Ayurvedic mask crafted to gently draw out toxins + impurities, exfoliate, and absorb excess oil while maintaining your skin's moisture. Activated Coconut Charcoal + Bentonite Clay act as magnets to deep clean pores, while powerful anti-inflammatory and anti-oxidant properties of turmeric, neem powder and Indian ginseng purify + brighten the skin.
How does it perform on acneic skin?
It works great overall and you could really see your skin brightening from turmeric + calming from geranium and patchouli essential oils that are anti-inflammatory and promote skin tissue regeneration.
Activated charcoal and bentonite clay are the top 2 ingredients in this mask that draw impurities + toxins from the skin, so complexion starts healing faster. These 2 ingredients help with balancing oily skin, clear out pores through "detoxing" – drawing out dirt + bacteria + toxins.
However, I've found, for me, to use it 2X a week to notice a difference in the long run – masking just once will not shift a big impact.
Since this is a powder mask and needs to be mixed with water or other liquids, etc., I find it performs better by mixing it with raw honey – this throws some serious punch! Raw honey is amazing at soothing skin, minimizing enlarged pores, eats away dead skin cells, disinfects and acts as a humectant.
Here is the ingredient breakdown list, which further clarifies what each ingredient does:
Activated Coconut Charcoal: Mighty magnet for toxins + impurities. Clears pores and removes dry patches to balance skin tone.
Turmeric Powder: Anti-inflammatory and gentle exfoliant. Treats skin conditions such as redness + acne. Brightens skin and adds youthful glow.
Neem Powder: Powerful antioxidant. Protects from environmental damage and aging free radicals, Help rejuvenate skin and restore elasticity with essential fatty acids and Vitamin E.
Indian Ginseng: Anti-aging herb. Stimulates collagen production. Helps smooth + tone the skin, and balance natural skin oils.
Geranium Oil: Gentle astringent. Tightens the skin + help prevents wrinkles. Stimulates skin cell regeneration.
Cocovít Coconut Oil: Rich in antioxidants and healthy acids, including capric, caprylic, myristic, and lauric acid. Softens and lubricates healthy skin cells, breaks down dead cells, heals acne and hydrates skin.
Patchouli Oil: Anti-inflammatory and tissue regenerator. Calms skin irritations like sunburn, acne or eczema, while stimulating the growth of new skin cells.
Pros
The pros of Cocovit Charcoal Face Mask is that it works! Your skin will look healthier, brighter and clearer.
Ingredients are just mystical! I love when essential oils and various potent herbs are used – this ensures a better working product.
The price may seem a tad high for $38, but for the size (3.3 oz), it'll really last at least 6 months, so I think it's a total steal!
Cons
Since, this is in a powder form – it can get very messy! If you decide to mix it with water, it will crumble, so you have to keep mixing and mixing to form a paste. Once you start applying to the face, it may start crumbling again.
Again, since it's a powder and black in color, it leaves residue in the bathroom sink, so cleaning after is a must.
It dries really fast as you apply it – so work with it accordingly/ add more liquid if needed – if it starts to dry.
I find this mask to lean more to those with an oily complexion – drier skin types may not enjoy it as much and may notice a drier complexion after use. However, it DOES alleviate and calm down existing acne, so the tradeoff is worth it, if suffering from acneic skin.
Another important note, some reviews on this mask state that you cannot leave it longer than 7 minutes on the skin. Otherwise, it'll make the skin red and a little irritated – this is based on certain ingredients in there.
Personally, I leave this mask on for 20-30 minutes and never had it aggravate my skin. Please keep in mind, everyone's skin is different and reactions may follow. So, start out with what directions on the mask state – leave on for 7 minutes, then rinse.
How to Use: Combine small amount (approximately 1 teaspoon) of powder with liquid (raw honey, yogurt, apple cider vinegar or water) to create paste. Avoid using metal to stir mixture. Apply to face + neck, allow to dry (approximately 5-7 minutes). Remove with warm water. Follow with moisturizer. Use weekly.
3.3oz; $38
Conclusion
I hope this review was helpful on Cocovit Coconut Charcoal Mask. I personally use this weekly to help tone, brighten, balance my somewhat oily skin and draw out impurities, revealing a beautiful, glowing complexion!
Have you tried Cocovit Coconut Charcoal Mask? Or anything with activated charcoal or bentonite clay – has it helped your skin? Share in the comments below!
Sources + References (click link below)
SaveSave
SaveSave