Oil Pulling? How does that work? Doesn't sound very pleasant! There's such a thing – people oil pull? The concept at first glance, sounds a bit off the wall, but it IS very real and really works for different health purposes, including acne!
Oil pulling is an ancient Ayurvedic method that has been practiced in India for over 3,000 years for internal and medicinal health benefits and is now been slowly gaining recognition in the western countries through holistic practices.
In a nutshell, oil pulling's main concept is to draw out toxins through swishing oil around in the mouth for a few minutes to introduce better health.
How?
Our mouths contain a lot of breeding bacteria that accumulates throughout the day, which in turn may result in certain illnesses.
It's the same reason that a dentist tells you to come in for a regular cleaning every 6 months – if one doesn't take care of their teeth, it may result in heart issues and other complications because the breeding bacteria/ plaque spreads internally into the body if teeth are not 'cleaned' properly.
Oil pulling works by detoxifying the oral cavity – it sucks the breeding toxins out of your mouth, which then creates a clean, antiseptic oral environment that contributes to the proper flow of oral hygiene + health needed to prevent cavities and disease.
Health Benefits
Health benefits of oil pulling are seriously endless!
Clears Skin
Eliminates Bad Breath
Prevents Cavities
Whitens Teeth
Prevents Tooth Decay
Heals Asthma
Heals Headaches + Migraines
Heals Diabetes
Prevents Heart Problems/Disease
Reduces Inflammation
Heals Irritable Bowel Syndrome
How Oil Pulling Helps Acne
Detox – Since the mouth is the entrance for breeding bacteria, it makes sense that the start of detox comes from the same place. By pulling all the toxins internally, body goes through a detox phase resulting in better health.
According to the book, Oil Pulling Therapy: Detoxifying and Healing the Body Through Oral Cleansing by Bruce Fife, "our mouths are the entryway into our bodies for bacteria, fungi, parasites and viruses."
Acne may get worse before it gets better, due to toxins being pulled internally, which will show up externally in a rash like appearance, which signifies a "detox" phase.
Skin – Oil pulling can clear skin of acne, rashes, rosacea and eczema through removing toxin buildup in the gut and thus give off a glowing, clearer complexion.
Inflammation in the body is one of the leading causes of skin problems, especially acne. Therefore, oil pulling extracts all the nasties and clears inflammation from within.
However, many individuals (myself included) experience a slight purge of acne for a week or two, which subsides. This is due to the mentioned detox phase and totally normal.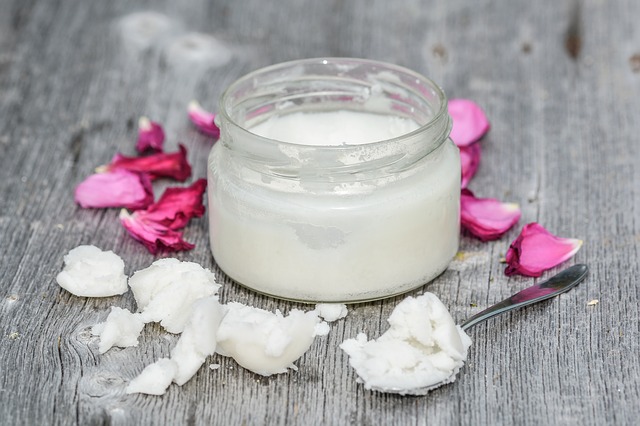 Coconut Oil Benefits (My Preferred Oil) for Oil Pulling
Coconut oil is ALL the rage and for great reasons! Oil pulling is most advocated to be used with coco oil due to its anti fungal + antimicrobial benefits.
There are other oils that are used for this ritual such as olive, sesame, grapeseed, etc. – but coco seems to the best choice (especially when dealing w/ acne) due to the richness of minerals and properties.
Coconut oil is amazing for health + wellbeing and has many beneficial properties, such as:
Powerful antibacterial and anti-inflammatory properties, which are essential for gut healing (including candida healing) – problems within our gut are linked to suffering from a host of skin issues, including acne, rosacea, eczema, itchy skin, etc.
Hippocrates – "All disease begins in the gut"
Coconut oil contains up to 40 – 50% of lauric acid, which is one of the highest sources of a medium chain fatty acids – research has shown lauric acid has powerful anti-microbial properties + support the body's natural hormone production, which is linked to balanced + happy skin.
Body converts lauric acid to monolaurin, which is beneficial for immune function and fights off viruses and disease. Many diseases in this day and age are caused by the overgrowth of bad bacteria, fungi, viruses and parasites in the body, which leads to skin issues – keep in mind, internal problems mentioned will lead to external factors showing up on the skin in different forms.
**However, I do not recommend coconut oil for face use (oil cleansing, moisturizing) if you're already acne prone, because somehow the richness of the oil (some state that its actually lauric acid) may irritate the skin further.
Many individuals who experience regular breakouts keep coconut oil in the kitchen, and out of the skincare ritual ;).
I know many wellness advocates advise on slathering coco oil on the face, but I'm gonna be firm and state it's probably a no go if you've got oily to acne-prone skin! But hey, keep in mind that everyone is different – it may just work for you.
Personal Experience w/ Coco Oil Pulling
When I heard about oil pulling – years ago, I jumped on the bandwagon with both feet in!
I thought the idea of swishing oil in my mouth was so weird, but so different that I wanted to experience it for myself – especially when becoming a "holistic" junkie, I wanted to try EVEYTHING in that realm!
To be perfectly honest, I did have the initial "detox" phase with purging for a week or two – but, I was doing so many different things at the time (with taking supplements, herbs, changing diet), it was difficult to tell if oil pulling was what helped me the strongest to clear up my skin.
I know it helped, but I can't say to what extent.
I noticed other positive changes though – brighter teeth, fresher breath, higher energy levels.
In addition, oil pulling was a bit odd getting used to, but once I started noticing the benefits of whiter teeth, fresher breath, improved memory, etc., I didn't want to stop.
Reason why I'm advocating oil pulling so highly, especially with coconut oil is because I know how beneficial it is for our health and the positive changes it'll make based on my own personal experience.
Also, toxins + inflammation are the driving forces to forming acne; therefore, oil pulling will help tremendously in that regard.
I've researched oil pulling experiences by others on acne and seen lots of positive feedback from other bloggers and regular people commenting on how this ancient practice has been able to clear their skin.
Again, I know oil pulling helped my skin clear up, but cannot state to an exact science on the percentage.
I definitely think this is one holistic approach that's hard to dismiss if you're trying to get clear – at least try. I'd give it 2 weeks to a month to see some ample results.
How to Guide
1 tablespoon of Organic Unrefined Coconut Oil (what I use), olive oil, or sesame oil (2nd best choice; also, always use good quality oil) in the mouth right before brushing teeth (in the morning); swish for 15-20 minutes. Beginners can start for 5 minutes and build up to 15 or 20.
Spit out into a trash can only (it can clog sink overtime because it is oil) and rinse with warm water. Proceed with brushing teeth as usual. DO NOT swallow while swishing! The swishing action pulls all the toxins – if swallowed, the toxins that you have swished will go back in the body.
Try oil pulling 3-5 times a week for best results; I started with a daily dose from 3 minutes and worked up to 15 minutes.
Currently, I do oil pulling 3-5 times per week.
You can also add a few drops of pure essential oil to your regular oil of choice for max results to oral health. The ones I recommend would be clove bud or cinnamon leaf essential oils. They're great for antibacterial + antiseptic punch – keeps toothaches away + heal teeth and gums.
**Mornings (before breakfast or any beverages) are the best time to oil pull because the time when we're asleep is when our mouth is the most susceptible to breeding bacteria and therefore, oil swishing is most effective when arising.
**Important to note – always try to purchase organic and unrefined oil for oil pulling ritual to ensure the most potent results.
Finally, don't get lazy with this process, as it can become somewhat tedious + tiresome – especially in the mornings, but I think its definitely something worth checking out for the sake of your health + skin, since health benefits are truly endless!
Have you tried oil pulling? Share your experience below!
Sources + References